Preproduction 

First contact emails were exchanged with Hiili as early as September 2019. Mela had called him in advance, and Hiili was already familiar with the band and its first album, Sangre Salvaje. A set of raw studio demos were sent to Hiili, allowing him to get his bearings on the song material. From that moment, the preproduction phase started. In the weeks that followed, Hiili and the band discussed and corresponded numerous times on the artistic direction, sound, and arrangements of the songs.  

They talked about bands like Aerosmith and Alice Cooper, groove and soul in rock, how vocals and percussion would have a big role, and they would not shy away from any style or era; they would let the Rock-'n'-roll history and modern sound mix and naturally benefit the songs. 
Based on those talks, Hiili later suggested arrangement changes, tempo alternatives, key changes, etc., and the band started to record the second iteration of demos that would eventually evolve into a template for the actual album recording. 
"When I first met the band, I wondered which of them might have been last arrested.  
My guiding idea was to bring out the personalities and handprints of the members strongly. 
The album features a variety of flavors of rock'n'roll, whose charismatic characters tie together seamlessly." - Hiili 
Recording and arranging of these new demos occupied the band for several weeks. From the band's home base, Hawaji Studio, demo's were bounced back and forth with Hiili. Feedback, ideas, and suggestions were processed, and good things and happy coincidences happened.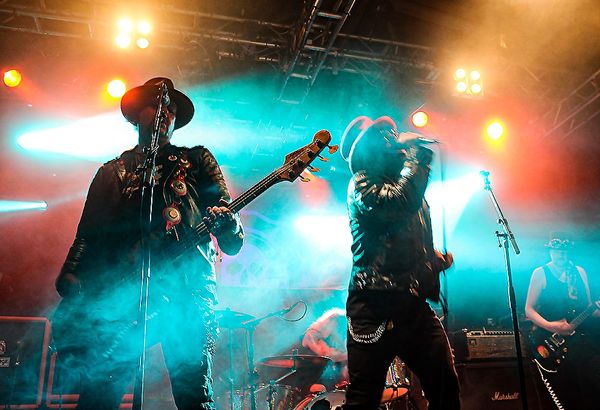 Out of fourteen songs,  ten made the cut. December 29th, 2019 Haxx emailed Hiili; "This is it! These are the songs. We'll start practicing these after new year, and if everything goes as planned, we can record the drum tracks in early 2020".  
One big decision was made in that motorway service station. After the arrangements were locked, the band would practice the songs up to live show standard before the final recording would start. When that standard was reached, drums were to be recorded at Sound Supreme studio in Hämeenlinna and then continue with the rest of the tracks in the band's homebase Hawaji studio, in Helsinki.